PART 1 – INTRODUCTION
Are you looking for a temporary storage space to stow your belongings due to a house renovation? Or do you seek a permanent storage solution after downsizing? Regardless of your storage needs, a storage unit offers an excellent space-saving solution.
Such storage facilities provide a secure, convenient, and affordable option for those in need of storage. However, if you are unfamiliar with the concept of self-storage, fret not! We can help. Let us share our comprehensive guide to renting a storage unit in Singapore.
PART 2 – EVERYTHING YOU NEED TO KNOW ABOUT SELF-STORAGE
2.1. Why Are People Renting Self-Storage Units?
In recent years, there has been a rise in self-storage facilities popping up all around Singapore to meet the increased demand for such storage units. But what are the reasons behind the self-storage boom in Singapore? Well, the answer is plenty! Let us explore the top reasons why many Singaporeans are seeking self-storage solutions.
Reason #1: Ease the stress of relocation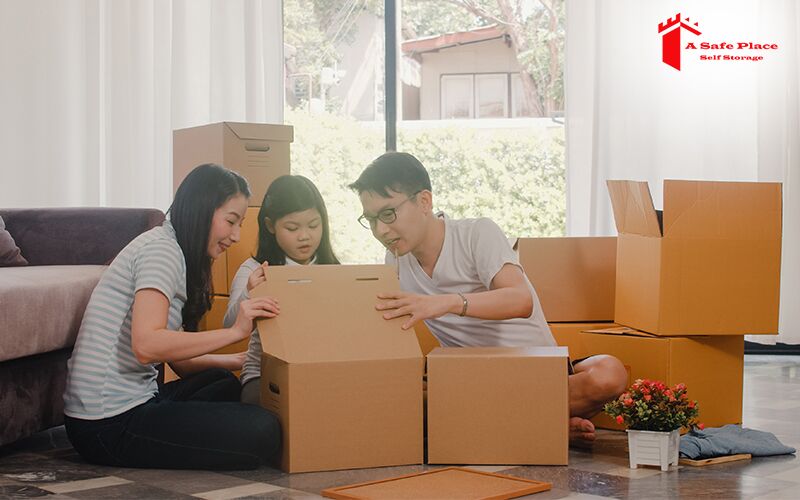 Moving into a new home can be an exciting but stressful occasion. With numerous belongings to shift to the new house, it is easy for homeowners to feel overwhelmed. On these occasions, homeowners may find that short-term storage can help solve some common moving issues, especially if they need more time to sort through all their possessions.
Storing excess items in a storage unit allows homeowners more time to sort through their belongings after the move. Subsequently, they can make a more informed decision on what to keep and what to discard. Short-term storage is also helpful for those seeking to clear the clutter from their home so they can stage their homes for property viewing.
Reason #2: Life transitions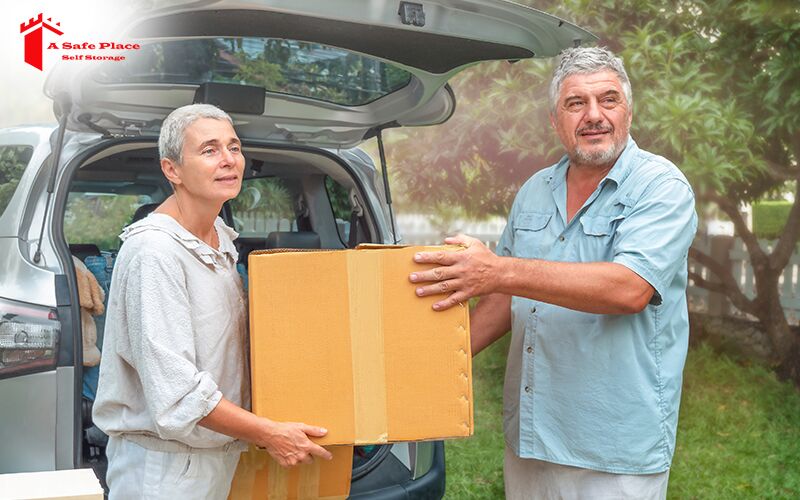 Change is the one constant in life. Life transitions, such as retirement and the children moving out of the house, may result in homeowners no longer having the need or means to maintain a spacious home. As a result, they might seize this opportunity to downsize to a cosier home that satisfies their current needs.
However, downsizing one's home also comes with some caveats. For one, homeowners cannot store as many of their belongings in their compact apartments. As such, they may require cost-effective long-term storage to stow items with sentimental value that they cannot find room for in their new house.
Reason #3: Make room for a home office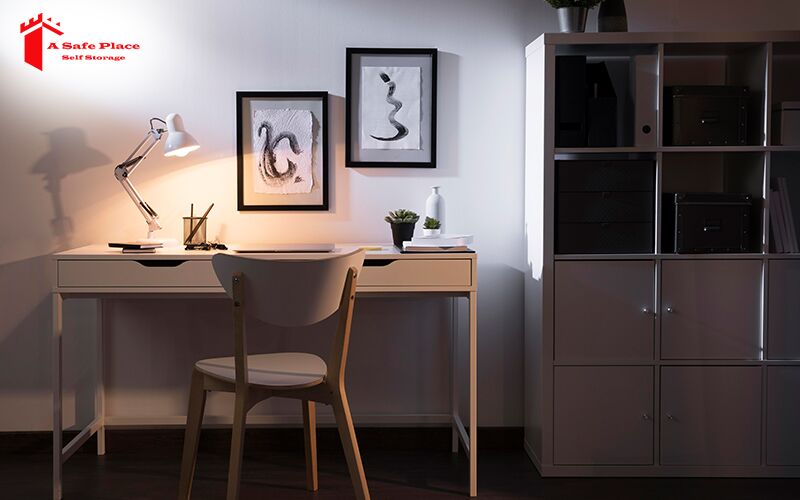 The COVID-19 pandemic has transformed how we work. With hybrid working here to stay, many Singaporeans seek to create a dedicated workspace at home to enhance their productivity. As such, they seek storage space for rent to declutter their home and free up space for their home office equipment. A clean, organised work desk is also essential to work efficiency, as clutter can hinder productivity and growth.
Reason #4: Temporary storage during a home renovation
Home decor can fade over time. When this happens, a home renovation may be in order. However, remodelling a home can be a messy affair. And the last thing homeowners want is for their expensive appliances or furniture to be damaged during the renovation.
But what happens when they do not have a spare room to provide refuge for their possessions? During these moments, homeowners can seek a temporary storage space to shelter their valuables. Once the renovation is completed, they can move their belongings back to their original locations. Some may even choose to continue using their self-storage units to keep their refurbished space clutter-free.
Reason #5: Store business archives and supplies
Whether it is a large corporation or a small family business, business owners require cost-effective storage solutions to stow their confidential business documents, product inventory, and other miscellaneous items. While there is the option of storing everything in one's workplace, the clutter will eventually hinder business continuity.
However, with space at a premium in Singapore, it may not always make financial sense for businesses to rent an additional office unit or a warehouse to store their supplies. So these entrepreneurs turn to self-storage facilities instead to keep their valued assets in safe storage. Plus, they enjoy the added benefit of having 24/7 access to their business archives and inventory.
Learn More: Reasons for using a Self Storage Facility
2.2. Benefits Of Self-Storage In Singapore
As you can see, there are plenty of reasons why self-storage facilities are becoming more popular among Singaporeans. However, if you remain on the fence about whether self-storage is suitable for you, read on to learn how this storage solution can benefit you personally and professionally.
2.2.1. Benefits Of Self-Storage For Personal Use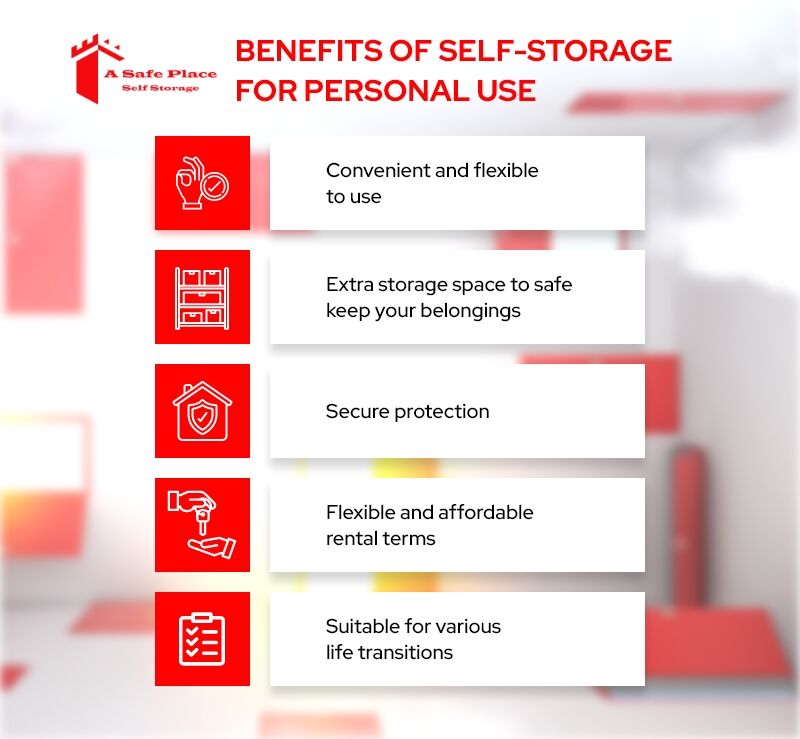 Benefit #1: Convenient and flexible to use
Convenience is often a priority for consumers when they use a service, and self-storage offers just that! Many self-storage facilities provide customers with 24/7 access to their storage units. So you can retrieve or store any possession when it is most convenient, even if you are only available outside regular business hours.
Benefit #2: Extra storage space to keep your belongings
Even those who live comfortably in a spacious home may find their belongings outpacing the available storage space. However, the last thing you want as a homeowner is for clutter to be strewn across the house. Fortunately, professional storage providers have solutions to fit every collection and lifestyle!
With various self-storage unit sizes available for rent, you can easily find the ideal storage unit that fits your requirements. Moreover, self-storage offers scalability depending on your storage needs. If you require extra storage space over time, you can upgrade to a larger unit when your current lease terms end.
Benefit #3: Secured protection
Your belongings are valuable; some may be costly to replace, while others carry sentimental value. Therefore, you would want peace of mind by seeking reliable safekeeping storage to stow the possessions you cannot find room for at home. In that case, self-storage is the cost-effective solution you crave.
For example, our storage facilities employ security personnel to patrol the common areas, like car parks and lobbies, for suspicious individuals. Our security is further enhanced by a state-of-the-art surveillance system that monitors the area 24/7. Additionally, access to our facilities is by Personal Identification Number (PIN) at the main entrance, with each customer provided with their own PIN. So only authorised personnel can enter our buildings.
Benefit #4: Flexible and affordable rental terms
While the rental price of a storage unit depends on its size, most units are affordable. Plus, most self-storage facilities allow you to choose your rental length when leasing a storage unit. This means you can rent the unit for any period that is suitable for you.
So if you are unsure how long you require the storage space or working with a tight budget, you can rent a unit for a few months before extending the lease if you need to. This way, you can store your belongings for as long as you want without worrying about the price.
Benefit #5: Suitable for various life transitions
Sometimes, life can throw you for a loop. You may need to downsize and cash out some funds for an urgent financial situation, or there could be an interim period where you have to move out of your old house but your new home is not ready. During these moments, you may require temporary or long-term storage for your possessions while you secure lodging for yourself and your family.
2.2.2. Benefits Of Self-Storage For Business Use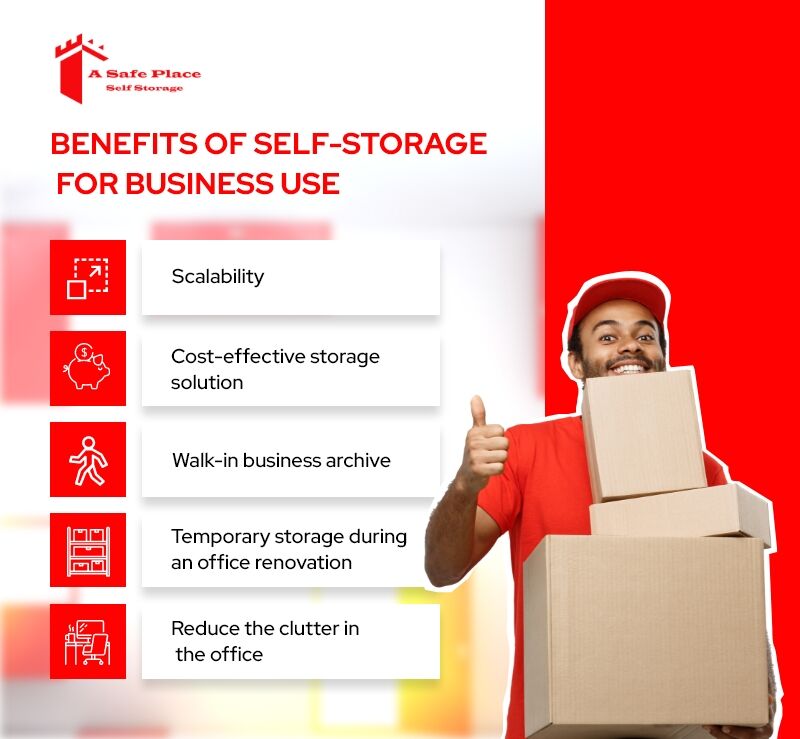 Benefit #1: Scalability
Every business must account for its future expansion plans when planning its storage needs. As your company grows, you will require extra office space for your burgeoning staff. Renting a self-storage facility to store unused office equipment and unnecessary files allows you to free up office space to set up more workstations for your growing team. If your storage requirement grows, you can upgrade to a larger storage unit once your lease ends or rent an additional unit.
Benefit #2: Cost-effective storage solution
As we have shared, the size of a storage unit affects its rental price. And with different self-storage unit sizes to choose from, you can ensure that you only pay for what you use. For example, if you only have a handful of items that require storage, it makes financial sense to rent a locker or a small vault to stow the objects rather than pay a premium for a bigger office space or a warehouse.
Benefit #3: Walk-in business archive
As more businesses move to digitise their work documents, there is less need for entrepreneurs to dedicate storage space to keep these files. However, it is still recommended to retain these documents as backups in the event of a cybersecurity attack or data corruption.
You can rent a storage unit to store your essential physical documents, like customer records, internal revenue files, and human resource files. This way, you do not have to sacrifice valuable office space that can be set up as workstations for new employees or used to store essential equipment.
Benefit #4: Temporary storage during an office renovation
Whether you plan to remodel your office or relocate to a new office as your business expands, you will require a short-term shortage to store your office equipment during this time of transition. Most storage providers offer flexible lease terms and numerous unit sizes to choose from. Therefore, you are sure to find a storage unit that suits your requirements.
Benefit #5: Reduce the clutter in the office
Studies have shown that a messy office can impact workers' productivity. When your work environment is cluttered, the mess restricts your ability to focus. It also hinders your brain's ability to process information. As a result, you find yourself distracted and cannot process information as well as you do in an organised office.
By renting a self-storage facility, you can stow any unnecessary equipment or document within the storage vault, decluttering your office in the process. Afterwards, you and your employees may notice a boost in your productivity levels. A tidy office also eliminates trip hazards, resulting in a safer work environment for staff.
PART 3 – CHOOSING YOUR IDEAL STORAGE UNIT
3.1. How To Choose Your Ideal Storage Unit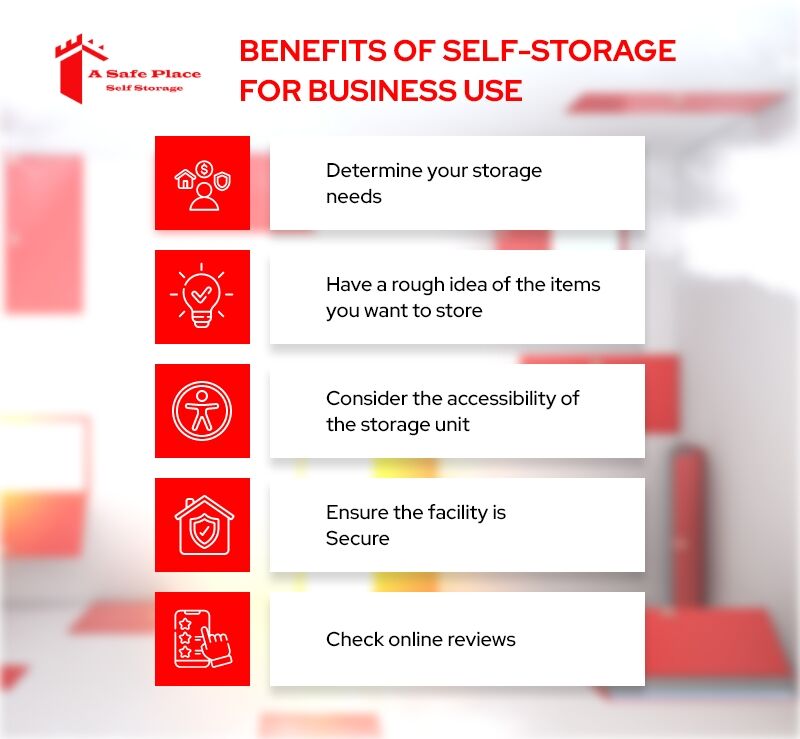 Now that you have a clear idea of how self-storage can benefit you, you would understandably be excited to begin your search for the ideal storage facility. However, with numerous storage options available for rent, it can be challenging to narrow down your choices. Well, fret not! Let us help you make the right decision.
Step #1: Determine your storage needs
Understanding your storage needs can help you figure out what self-storage unit size works best for you. For instance, if you only need to access your storage unit occasionally, you can choose to optimise storage space by cramming as much as you can into a smaller vault.
Conversely, if you need to periodically access your storage space, you may require a larger unit so that you have sufficient room to move around after all your possession is placed inside. After all, it is a significant hassle to shift half your belongings to one side to grab an object placed all the way at the back.
Step #2: Have a rough idea of the items you want to store
The items you plan on storing in your storage unit will also affect how much space you require. If you have some boxes of knick-knacks that can fit into a compact area, it makes no sense to rent a large vault.
Conversely, if you are storing valuable items such as antiques or artwork, you may want to consider renting extra storage space. This way, you have ample room to store every item and navigate the place without accidentally toppling anything over.
Step #3: Consider the accessibility of the storage facility
How frequently do you plan to access your self-storage facility? If the answer is often, you will likely want to rent a storage unit closer to your home or workplace. The facility should also be easily accessible, with multiple public transportation available within a stone's throw from its location. After all, it is a hassle if you have to go out of your way to store or retrieve an item.
Step #4: Ensure the facility is secure
Singapore may boast one of the lowest crime rates globally, but low crime does not mean no crime. Therefore, it is a good idea to engage the services of a storage provider with a robust security system – like A Safe Place Self Storage – to ensure your belongings remain safe and sound.
Step #5: Check online reviews
If you still have a tough time paring down the options on your shortlist, the best thing you can do is check the online reviews and ratings of your preferred storage providers. Reading what other users have to say about their services and self-storage facilities will give you a clearer idea of what to expect when renting a storage unit from said storage provider.
3.2. Essentials Things To Look For In A Self-Storage Service Provider
We hope what we have shared has proven helpful in identifying a suitable storage unit. However, selecting the ideal storage unit is only one-half of the equation. You also have to ensure you engage the services of the right storage provider. So here are a few things to pay attention to before signing on the dotted line.
Factor #1: Ensure you have 24/7 access to your belongings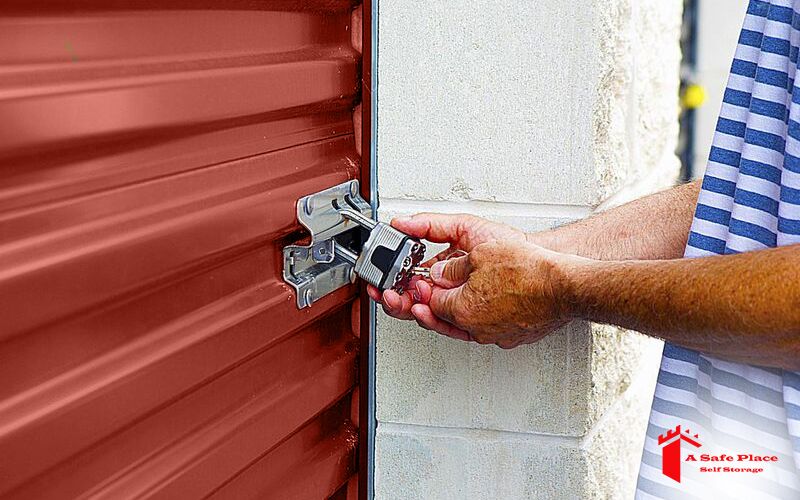 We have previously highlighted how beneficial it is to have 24/7 access to your belongings when you need them. While storage companies in Singapore do offer this benefit, you must note the service you select. This is because some storage providers also offer "valet-style" services to their customers.
When you utilise a "valet-style" storage service, your items are kept in a centralised storage facility. As such, you must schedule a pickup time beforehand to retrieve your possession from said location. So if you require regular access to your belongings, ensure you opt for a self-storage service.
Factor #2: Check if the storage provider offers transportation services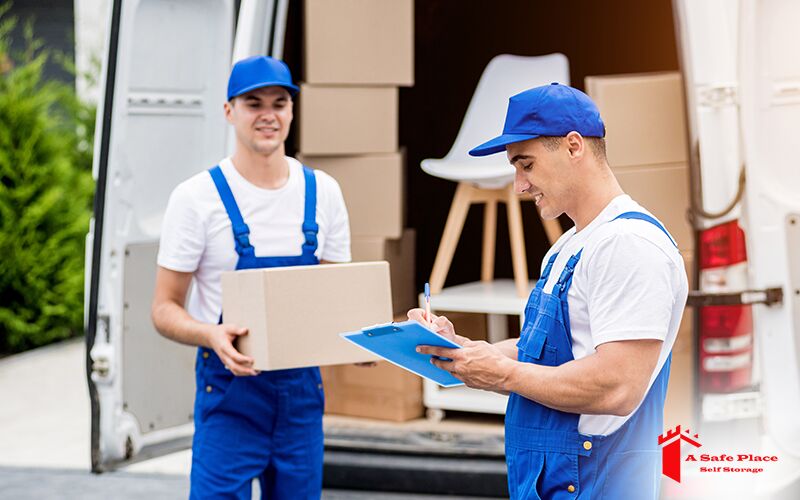 If you plan on storing bulky furniture in your storage unit, you may find it a hassle to transport the item personally to the self-storage facility. Ditto if you have multiple boxes for storage. In such instances, you might want to consider a storage company that offers collection services.
At A Safe Place Self Storage, we provide affordable transportation and packing services. We also offer regular promotions for pickups from your home or office to our facility based on the terms of storage. Currently, we are offering complimentary transport and manpower services from 1 November 2022 to 30 April 2023 for our customers' initial move into our storage facility.*
*Please note that this service does not include packing and is only applicable for agreements signed for a minimum of 12 months.
Factor #3: The cleanliness of the facility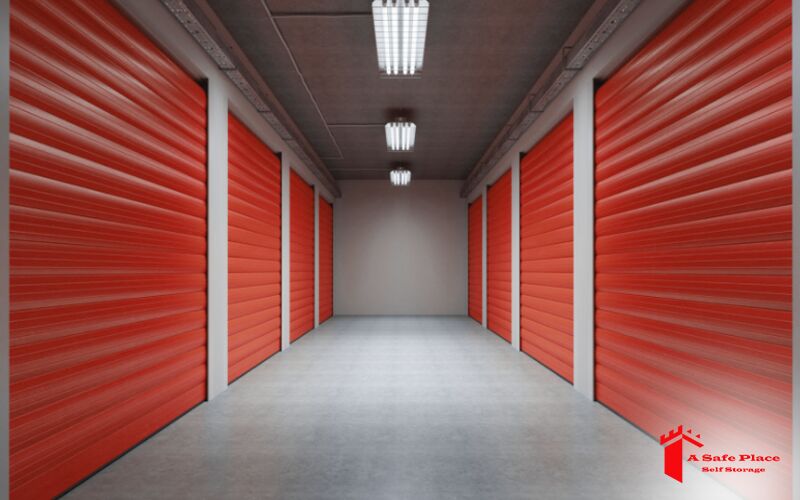 A poorly maintained self-storage facility could be a breeding ground for pests like rodents. And the last thing you want is to discover gnaw marks all over your precious belongings. As such, you should ensure your preferred service provider can maintain a satisfactory level of cleanliness in its storage facility. For instance, at A Safe Place Self-Storage, we engage the services of a reputable pest control company to conduct regular preventative pest control maintenance to reduce the risk of an infestation.
3.3. Factors Affecting The Price Of A Storage Unit
After learning what you should look for in a storage unit and storage company, the next question on your mind would likely be, "How much does it cost to rent a storage unit in Singapore?". Well, the answer depends on a myriad of factors, like the terms of the agreement and what promotions are offered at the time. Let us share the primary factors that affect the rental price of a storage unit in Singapore.
Factor #1: Size of the unit
Most storage companies segregate their storage vaults into the following categories: small, medium, large, and extra large. However, there is no standard size for each classification. For example, a medium unit boasts an average size of around 50 square feet. But the units can vary between 35 square feet and 75 square feet. And if you chose a larger storage vault, you would naturally have to pay more.
Many make the common mistake of renting out a storage facility that is inadequate for their storage needs – the units are either too small or too large. As a result, they either have to go through the hassle of securing another unit, or they are not getting the best value for money.
This is why we recommend having an understanding of your storage needs and the items you wish to keep in the unit before renting your storage unit. Knowing the answer to both questions beforehand gives you an idea of how much space you require. Another excellent idea is to measure the larger items if you plan to store bulky items like furniture or appliances. You can refer to our handy self-storage unit size guide to better understand which unit is most suitable for you.
Factor #2: Location of the unit
Location is often the number one factor when purchasing a property. And this logic holds true when renting a self-storage facility too! The closer your unit is to the central areas, the pricier it gets. So if you need to access your storage unit frequently, you should expect to pay more for a facility located in a convenient location. However, the convenience is often worth the slightly pricier fee. If not, you can consider a location that is further. It is guaranteed to be cheaper.
Factor #3: Length of the contract
Naturally, the longer you rent a self-storage facility, the more you must pay. However, storage companies are often willing to offer a discount if you rent their facilities for a longer duration. As a result, you may find it more worthwhile to rent the storage unit for a longer period of time rather than opt for a short 6 months lease.
For example, A Safe Place Self Storage is currently offering ½ month discount for a term of 6 months, 1¼ month discount for a term of 12 months, 2 month discount for a term of 18 months, and 2¾ month discount for a term of 24 months.
To ensure you receive an accurate quote, we recommend speaking to us about your storage needs. Our consultants can then tailor a quotation based on your requirements.
PART 4 – FAQs ABOUT SELF-STORAGE
We hope we have addressed your most pressing questions about self-storage. However, we understand that some readers might still have several lingering enquires. As such, we have consolidated the most common queries we have received from our customers about self-storage. Check them out below.
Question 1: What are the storage unit sizes available at A Safe Place Self Storage?
Our self-storage unit sizes include
Locker (12 sqft)

Small Vault (12 to 34 sqft)

Medium Vault (35 to 75 sqft)

Large Vault (76 to 149 sqft)

Extra Large Vault (150 to 275 sqft)
Question 2: Do I need to purchase storage insurance?
Unlike other service providers, A Safe Place Self Storage provides complimentary storage insurance coverage for our customers based on the size of your storage vault. If you require additional coverage, we can put you in touch with our underwriters, who will be glad to assist you with the arrangements.
Question #3: What am I allowed to store in my self-storage unit?
The good news is that you can treat our storage vaults like a storage room and stow close to anything! Some examples include bulky furniture, sports equipment, as well as antiques and collectables. We provide various packing materials, such as moving boxes, for purchase at reasonable prices on our online store if you require them.
However, please note that specific items that do not comply with safety requirements are not allowed in our facility. Examples include
Flammable and explosive goods

Perishable items like exposed food

Illegal or stolen goods
You can contact our helpful staff to clarify any doubts if you are unsure whether your belongings are permitted for storage at our facility.
PART 5 – CONCLUSION
You may find self-storage to be a game changer, helping you transform your life by keeping your home or business decluttered and well-organised. This all begins by choosing the ideal self-storage facility! And if you are searching for a suitable storage space near you, look no further than A Safe Place Self Storage! We have an extensive selection of storage vaults tailored to every customer's needs. Visit our website today to learn more about our services and promotions.